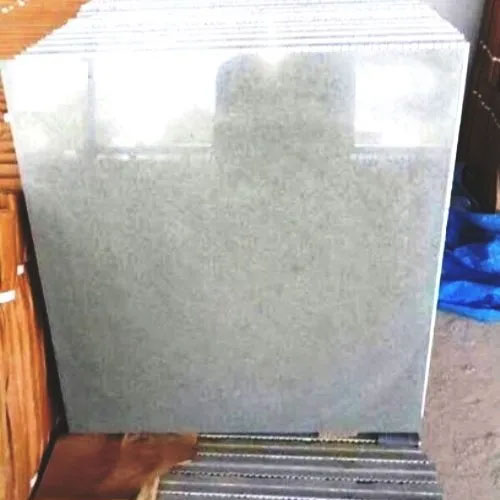 Polished Kota Stone
Being a Naturally occurring stone, Kota stone comes with uneven surface and texture. Textured surfaces are great for gardens, pathways or any outdoor application. While polishing the Kota stone, uneven textures and roughness are removed making the stone smooth and reveals the natural tone of this Naturally beautiful stone. After processing and polishing the stone with various techniques makes it versatile and suitable to solve your interior flooring purposes as well.
Kota stone can be polished in various surface patterns using different polishing techniques and abrasives. Here are some of the mostly chosen polishes of Kota stone.
Shot Blast polished Kota stone
Shot blasting is a process in which coarse molecules are thrown at high speed on the natural surface of Kota Stone. This collision removes contaminates, like dirt and rust particles and creates a textured and roughened surface. The finish is depends on the size of molecules and the pressure used while finishing and throwing particles. This Polish is preferably used for decorative ailments and cladding purposes.
Leather polished Kota stone
For achieving leather polish, diamond abrasive pads are used that removes the uneven stone layer and creates a textured, comparatively smooth and matte finished appearance. Different abrasives of finer sizes are used to create the desired sheen and finish.
The leather polished Kota stone is generally used for decorate walls, interior flooring and countertops. The appealing sheen with durability gives a marvelous effect. It can be used for outer areas such as pool surrounds as it is a slip resistant stone. Uniquely textured leather polished Kota stone is amongst our best selling product list.
Honed polish stone
In honed finish, the natural texture of stone is removed by using abrasives that grinds the stone to get a satin surface finish. In honing process, generally minor surface imperfections are removed leaving a soft, flat and non-reflective surface. This polish makes a great balance between modern and contemporary outcomes.
For both interior and exterior applications, honed polish is a prime choice that offers a natural effect with a little bit of shine. The best part about this polish is that minor scratches and imperfections are not visible. This Quality makes honed polished Kota stone a leading and foremost suitable option for high traffic Ares as well.
Granite polish / Mirror polished Kota Stone
In granite polish or mirror polish, the naturally matte surface of stone converted to a highly glossy and reflective appearance. With the help of diamond abrasive pads, the roughness of the stone is removed and gradually finishing it repeatedly will result as glossy stone polish. Which makes it ideal for your indoor uses and can easily replace those shiny manmade tiles.
Polished Kota stone surface gives elegant and luxurious appearance and suitable for interior application such as kitchen countertops, tabletops, flooring and wall cladding. Being tough and scratchproof stone, it is an ideal choice for home interiors.