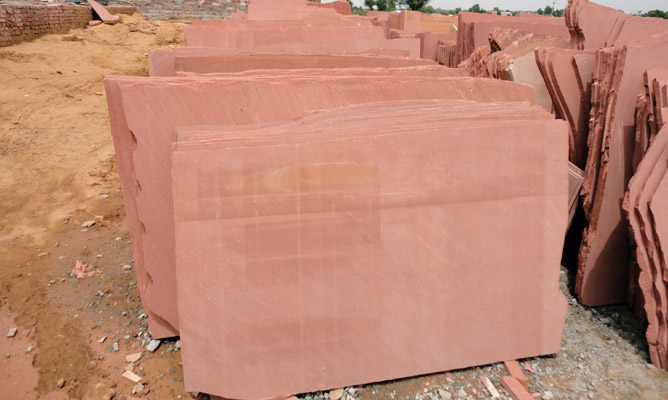 RED AGRA STONE
Red sandstone or known as Agra Red across the world is made up of composition of smaller rocks, minerals like iron oxide and other substances. Agra Red sandstone is basically a sedimentary rock and famed for its being used in construction of Agra Red Fort. The presence of iron oxide in the composition is responsible for its deep reddish tone.The Red Sandstone is mined from Dholpur of Rajasthan and because of its region it is even known as Dholpur Red stone.
The demand of Agra red is rapidly growing in Middle EastAsia and outer countries for it's being strong and radiant. The stone is unaffected to weather changes and have a natural gleaming appearance. The chemical composition of this stone makes it stain resistant and an ideal choice for external wall claddings, landscaping and outdoor floorings.
AGRA RED SANDSTONE
Agra Red Sandstones are hard wearing rocks and have a long life span and they are inexpensive too. The red agra stone is mainly used for wall cladding, door and window frames and flooring purpose. Red agra stone is a Gem for Architectural industries for makings shrines and monuments. In Constructions of hotels and villas, red sandstone is preferred as the replacement and maintenance cost will be negligible. With a significant and prominent red tone and natural glance the red sandstone is able to change the entire face of anyplace.
For high traffic areas red sandstone flooring is a supreme choice as Red stone is robust and durable.The stone can be used without polishing, in its natural form and the sheen and glaze will last you for centuries without high maintenance and efforts.The stone is easy to clean, and it does not chip and last you for centuries.
Mughal 's and Red sandstone
Who doesn't know the majestic Agra red fort, which was the main residence of Mughal emperors. The extensiveuse in the construction of Agra fort give this recognition to Red sandstone. In the Mughal's era colour Red was considered as the symbol of power that is why they have used this red sandstone in every composition and artwork. The artistic essence of this stone made it the most used stone of that period. "Fatehpur sikri, the city of victorywas built by Akbar and a lot of structures are made by using Agra red sandstone.
Apart from that Agra red has been used in making of "Qutub minar","Jama masjid", "DelhiRed fort", and even for the mosque in Taj mahal. All these Mughal structure was built in 16Th century and still are in brilliant condition and the gleam of these monuments is unaffected after all these centuries.