Mandana Stone Company is a big scale manufacturer of all types of Natural stones such as Agra Stone, Agra Red Sandstone, Agra Red Natural Sandstone, Agra Sandstone
Agra Red Sandstone company exports its goods globally and serves domestic market as well. company has more than 20 years of experience in this industry and is producing the high quality Agra Stone, Agra Red Stone and Teak Wood Agra Sandstone. Company Supplies Agra Red Sandstone specially in middle east Asia and outer countries as the demand of Agra Red Stone is growing rapidly in overseas market as well.
AGRA RED Stone Product Range
We are mining, processing and exporting folowing sandstones
Discover
Kota Stone Flooring
Kota stone flooring is a popular choice for both residential and commercial buildings. It is easy to maintain, and its rough texture makes it slip-resistant, making it ideal for outdoor spaces such as patios, walkways, and pool decks. Kota stone comes in different colors such as blue, green, and brown, which can be polished or left unpolished depending on the desired finish.
DHOLPUR PINK SANDSTONE
Dholpur Pink Sandstone is a popular building material and is used in a variety of applications, such as cladding, flooring, paving, and landscaping. It is durable, weather-resistant, and easy to work with, making it a preferred choice for many architects and builders.
The stone has a medium to coarse grain size and a uniform texture, with occasional bands of darker and lighter pink shades. It is available in different finishes, such as honed, polished, and sandblasted, to suit different design requirements.
Read More
BANSI PAHARPUR STONE
Bansi Paharpur Stone is known for its distinctive beige color and its uniform texture. It has a fine to medium grain size and is usually available in both sawn and natural finishes. The stone is durable, weather-resistant, and has excellent strength, making it ideal for use in both indoor and outdoor applications.
Bansi Paharpur Stone has been used in several high-profile projects around the world, including the Ram Mandir Ayodhya India.
Read More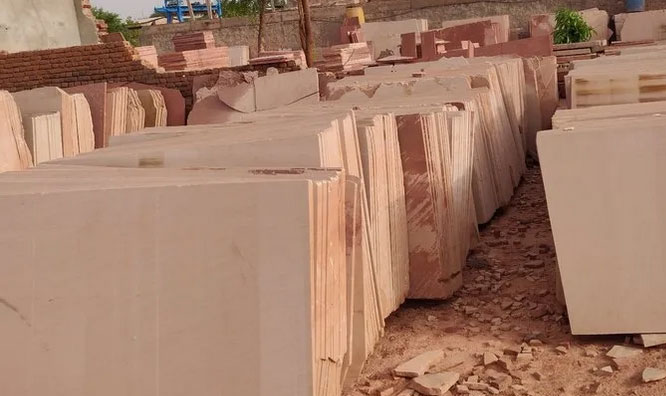 RED MANDANA Stone Product Range
We are the only Legal Lease Holders of Acid Proof Red Mandana Flagstone mines
Agra Red Stone
Agra Red Stone or recognized as Dholpur Red is a sandstone, which is renowned for its massive use in Agra Fort. Agra Red Sandstone is made up of sedimentary rock and it took over million of years to be formed. Presence of iron oxide substance is mainly responsible for its dark red tint. This Sandstone is a marvelous stone with remarkable rich tint of red and exceptional durability that makes it popular amongst the interior designing industries.
Agra Red Stone Price
A Marvel of Nature, Red Agra sandstone has excellent weather resistant properties and it is quite obvious after looking the condition of Agra red fort and red fort of Delhi. The stone is ideal choice for both interior and exterior purpose.
The Price Of Red Agra stone is variable and it depends on various factors. The size of the stone, the different finishes depending on the uses, the thickness of the stone, the colour variations, the texture of the stone and a lot more things are responsible for the changing Red Agra sandstone price.
Thick stones are pricier than the thinner ones and the same way the larger the stones the pricier it is. Being a naturally occurring stone, It always has some imperfections and colour discolouration so the stone with fewer variations will always have more price than the one that has slight imperfections.
The Agra red stone price depends on its finishes as well. According to the uses, different finishes are required for distinctive uses. Such as rough Agra red stone is uses for exterior applications like gardens, paving and landscaping. Mirror polished stones are preferred for interior floorings and wall claddings whereas stone blocks are ideal for artistic purpose.
Agra Red Stone Price India
One of the major factors of price variability is transportation charges and freights. Being an Indian sandstone the price of Agra red is cheaper is India rather than the overseas market. Even in India the Agra red stone price varies for different locations. The Stone is quarried from Rajasthan, Northern state of India so in near by area of Rajasthan the Agra red stone is quite affordable than any other states that are on quite distance.
Agra Red Manufacturers, suppliers and exporters
Mandana stone Company is a prime manufacture, supplier and exporter of Agra red sandstone in India and overseas as well. The red sandstone is gaining popularity in overseas market and it has become the highly demanding stone for interior designers and artists around the world. The stone is soft and can be easily carved with finer detail that is why it had been extensively used for monumental purposes.
Being supreme manufacturer of Agra Red, we ensure that the whole process of quarrying to the converting it into demanded product take place under the supervision of quality inspectors. State of the art technologies and machineries are used for cutting and finishing process.
In our warehouse, we make sure to maintain a wide variety of Red Agra sandstone products such as tiles, slabs, cobbles, covings, stone blocks and customizable sizes as well. Here, the quality control inspectors validate that the supplied stone should meet the expectations of customers.
We are massively exporting our quality materials in India as well as other Countries. Some of them are UK, USA, Canada, Japan, Australia, South Korea, and Bangladesh. We ensure timely delivery of quality goods with high customer satisfaction.
Agra Red Finishes and Edges
With divergent needs and uses the Agra red stone is finished with various surfaces finishes and distinctive edges to fulfill the requirements of customers. Having colour variations, durability and unique specifications The Agra red stone is a popular choice for both interior and exterior applications.
The edges of Agra Red Sandstone are precisely crafted to intensify the ravishing allure and performance of the stone. There are several patterns of edges, each offering a different look. Some of the patterns are Bullnose Edge, Half- bullnose edge, Chamfered edge and beveled edges.
Agra red stone Finishes
Agra red is a natural rock, which is finished and cut according to the necessity and demands. There are various sizes and finishes available to enhance the beauty of every area of your house.
Multiple finishes and sizes can remarkably change the overall appearance of you place. Here are some of popular finishes:
Natural finish/Rough stone
Being a natural stone the Agra Red stone got textured surface. This Rough textured stone is preffered for outdoor areas and to give contemporary touch to your indoor as well. The Natural and textured surface is anti skid and intensifies the appearance of your gardens and pathways.
Mirror Polished/Gloss Finish:
The Natural surface of stone is treated with abrasives and grinders to turn it into the glossy mirror like appearance. This procedure enhances the Natural colour of the Red Agra Stone and gives luxuriant look as well. The mirror-finished stone is ideal for the indoor floorings, countertops and wall cladding.
Honed Finish
Honed finished stone have smooth texture with matt look. The stone is lightly finished to tam the roughness keeping the original texture unaffected. The slight sheen provides a casual look and is less prone to scratches so it is easy to maintain and suitable for high traffic areas.
Sandblasted Finish
In sandblasting process, the stone surface is treated with fine abrasives under high pressure to enhance the natural colour of the stone. The finer grains give a matt and rough texture to the surface giving it aged look. The sandblasted stones are ideals for both indoor and outdoor areas and can easily be used for cladding purposes of you external and internal walls.
Agra Red stone uses
Agra red is a versatile stone with unique textures and incredible durability. The stone can be used for outdoor areas such as gardens, pathways, landscaping and outdoor wall cladding. It can be used for indoor floorings, wall claddings, artistic sculptures, staircases and making countertops. With its eye catching colour variations and naturally resistant to weather changes it can be a great asset for your home.
Uses of Agra Red Sandstone
Flooring
The Agra red is a tough stone and can easily bear heavy loads without cracking which makes it ideal choice for both indoors and outdoor areas. The stone can be used for parking areas, gardens, and internal floorings as well. It can be easily used in commercial sites where the floors are prone to wear and tear. By using Agra Red sandstone, you can enhance the life of the floorings and can save the replacement and maintenance costs.
Cladding
The incredibly beautiful appearance of this stone will intensify the overall look of your indoors and can improve the strength of your home while using for outdoor cladding. Different finishes of the Agra Red will gives distinctive appearance to the whole area.
Monuments
Everybody has seen the magnificence of the Agra fort and it is the excellent example of the toughness and durability of the incredibly beautiful Agra Red stone. Mughal emperors used Agra Red Stone for making almost every monument of theirs. The stone has soft surface that makes carving process easy and effective. That is why this stone is used in many artistic sculptures and temples as well.